Message From The Head - Prof.

Thenmozhi M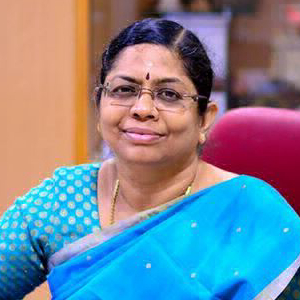 Welcome to the Department of Management Studies (DoMS), Indian Institute of Technology Madras!

The Department of Management Studies, Indian Institute of Technology Madras offers a wide range of programmes in the field of management. Each programme is uniquely tailored to meet specific needs of  diverse aspirants looking to build and strengthen their management skills. DoMS occupies a place of pride among the top ten business schools in the country, according to the NIRF ranking 2022. Path-breaking research, capability development and building techno-analytical skills are embedded in the programmes and activities of the department. Being part of the IIT Madras eco-system, the programme and the students get the advantage of latest technical interface in management.

The Master of Business Administration (MBA) programme is a two-year, full-time programme, that provides students with well-rounded learning experience in terms of management theory and actual practice. The Executive MBA (EMBA) programme specially caters to the learning needs of working professionals, conveniently designed to allow work-life balance through alternate weekend contact classes, while still maintaining academic rigor and practice-oriented curriculum. DoMS also offers dual degree programs – the first being the Tech MBA programme, where the curriculum integrates and synergizes technology and management disciplines; and the second being the Masters in Quantitative Finance programme, where the curriculum is designed to link mathematical and computing skills with finance. In keeping with the research focus of the parent institution, DoMS offers a Masters programme in research (MS) to equip students to undertake rigorous, managerially-relevant research in various management areas as well as the flagship doctoral (PhD) programme which moulds students to pursue high quality research. The PGPEX-VLM is a unique one-year diploma program with a built-in manufacturing focus, that is jointly conducted by three institutes i.e., IIT Madras, IIT Kanpur and IIM Calcutta. We have a post-doctoral research programme and a six month post-doctoral programme for women which provides opportunities for doctoral scholars to collaborate, work with the faculty members on innovative areas of research in management.

With outstanding academic credentials, faculty members at DoMS represent several areas of management, engage in cross-disciplinary research and play an active role in industry engagement. The areas of specialization include finance, Human Resources and Organizational Behaviour, Information Systems, Integrative Management, Marketing and Operations. DoMS faculty members are recipients of prestigious awards and recognitions, with international teaching and research experience in reputed universities across the world. We have a strong student and faculty exchange programme with various international universities. We have a strong alumni who are excelling in various domains and industries, and partner with us in enhancing the leadership and skill development of our students.

Industry-academia collaboration at DoMS is an ongoing activity, with faculty and students interfacing with industry professionals through a series of initiatives such as Management Development Programmes (MDPs), consultancy projects, sponsored research projects, industry sponsored research labs, management invitation lecture series and workshops. DoMS faculty members are engaged in various research labs such as CREST (Centre for Start-ups and Risk Financing), DART (Data Analytics, Risk and Technology lab for behavioural studies), DEEP (Decision Engineering and Pricing lab) and CAMS IITM Fintech Innovation lab (CIFIL). We are also actively involved in technology enabled education through courses offered in SWAYAM and NPTEL.

DoMS is also known for engaging students in various extra-curricular, sports and cultural activities. The DoMS environment is the best in place for learning and developing one's personality into successful leader, manager and entrepreneur.

We are further aspiring to become India's best-in-class business school in emerging knowledge domains of management and we look forward to the support of all our stakeholders in this endeavour.