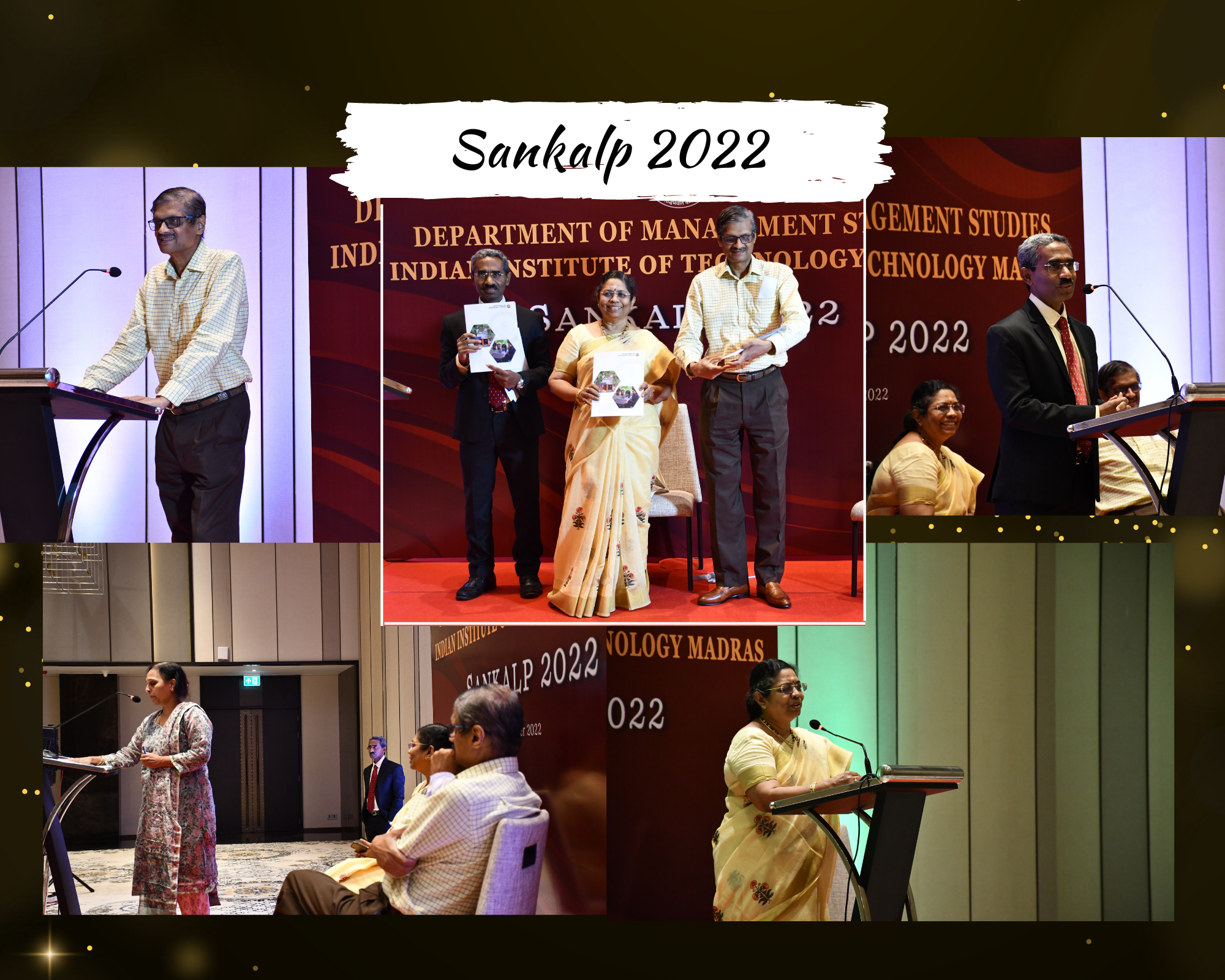 SANKALP 2022 – Industry Outreach Program, DoMS, IIT Madras

The Department of Management Studies (DoMS), Indian Institute of Technology Madras hosted Sankalp 2022, an industry outreach program, at the Taj Wellington Mews, Chennai on 13th October, 2022. Designed as an evening for networking, idea exchange and thought leadership, the event witnessed enthusiastic participation of CEOs and senior executives from organisations across various industry sectors in Chennai.
Prof. Thillai Rajan, the coordinator for the department's industry outreach program, delivered the welcome address. This was followed by a brief speech by Prof. Thenmozhi, Head of the Department of Management Studies, on the various industry-connect initiatives at DoMS. She underscored that industry-academia collaboration at DoMS is an ongoing activity, with faculty and students engaging with industry professionals through a series of initiatives such as capability development programs, consultancy projects, management invited lectures, sponsored research projects, internship positions, faculty roles and industry sponsored research labs.  The highlight of the evening was the keynote speech by Mr. V Shankar, a distinguished alumnus of the Indian Institute of Technology, Madras (Batch of 1981) and the Founder of CAMS (Computer Age Management Services Pvt. Ltd). Drawing insights from his professional journey, his speech focused on 'Reflections on Building a Successful Business', and emphasized the importance of tapping into a niche area to build a business, the need to align with contemporary trends, why customized hiring practices are essential, how the right employee fit could take the organization to greater heights, the importance of including diverse human talent pool and how to efficiently create a strong value system within the organization. The department's brochure was also unveiled during the event by the chief guest. In her vote of thanks, Prof. Krishna Prasanna thanked the chief guest for sharing his perspectives that included both best practices and lessons learned.
This was followed by dinner and networking. Leaders from various organizations such as Ather Energy, Avalon, Axon, Ball Corporation, Brakes India, Chemfab Alkalis, Genesys, HSBC, InuAid Solutions, Intellect Design, L&T Construction, Net 10 Digital Ltd,  Pfizer, Pixelate, Shriram Auto Components, Spark Capital, SPI Edge, Standard Chartered, SynProSoft,TAFE,  TVS Supply Chain and WayCool  participated enthusiastically and expressed interest to explore collaborative initiatives at DoMS. The guests were also presented with books and research papers authored by faculty members. Prof. Thenmozhi, Head of Department, said that the event would serve as a catalyst to strengthen existing industry ties and forge new relationships.