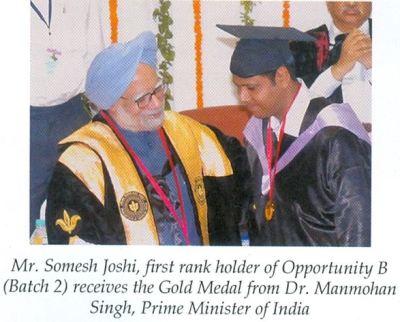 The rich blend of professionals from varied manufacturing industries who had conviction & passion in taking the Indian manufacturing industry to greater heights was indeed an enlightening experience for me and of great value for my consulting profession. The international exposure with Japanese Prof.Shoji Shiba endowed with integrated learning in one of world's best technical (IITs) & managerial schools (IIMC) had certainly instilled a vision in me to construct new horizons.
PGPEX-VLM equipped me with multi dimensional skills and provided with a platform to interact with like-minded peers, intellectuals and eminent persons of Industry. Especially visiting to various industries in Japan brought valuable insights in applying Big 'M' concept to Indian manufacturing sector. Learning during VLM was fascinating as most of the course work is based on case studies, group discussions, knowledge sharing with peers and finally applying those learning's to industry through internship at renowned companies. PGPEX-VLM is a Spearheading revolution in Techno Managerial Program and has tremendous potential to become dominant force in Organizational Transformation.
VLM is the place to be. I cannot think of alternatives, the quality of training and training materials is very high. VLM takes a total approach to self development. VLM has transformed me into a culturally sensitive, tolerant, ethically and socially responsible manager. More than the class room teaching, I learned a lot outside the classroom, from faculty, staff and my fellow students as well. Among the best things about studying at IIM Calcutta, IIT Kanpur & IIT Chennai, I would like to mention that the MBA here provides you with a solid foundation to tackle complex business problems.
The one year of the PGPEX- VLM program that I spent in the most stimulating and picturesque environs, has not only helped me gain the necessary knowledge skill-sets but also ushered a unique vigour to set out and embrace transformation. Truly, PGPEX-VLM is more about leadership with a purpose than mere domain expertise.
Indian placements only.., though my comfort in handling technicalities involved in power industry had always been my forte in the past, PGPEX-VLM has helped me develop new insights about this industry. Indeed, PGPEX-VLM is perfectly suited for all individuals, who seriously believe in shaping the future of India.
A small batch of visionaries in making, with a cumulated professional experience of more than 250 years and representing the rich diversity of the indian manufacturing sectors, from automobiles to nuclear power to consumer electronics, had gathered under one roof of India's numero uno institutes. such a succinct description of my PGPEX-VLM batch can only serve a flavour of the knowledge depth and excellence of the indivisuals therein.