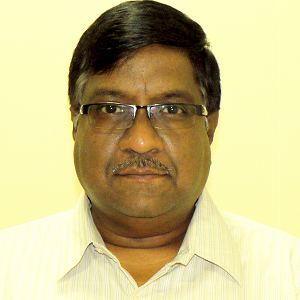 Dr. Prakash Sai L
Professor & Head
Office: DoMS 412
Phone: 2257 4568(O)
Email:This email address is being protected from spambots. You need JavaScript enabled to view it.
Academic Background
Ph.D. (Technology Management), IIT Madras, India, 1997.
M.Tech. (Industrial Engineering), S.V.University, Tirupati, 1990.
PG Diploma (Computer Methods & Programming), AP Productivity Council, Hyderabad, 1989.
B.Tech. (Mechanical Engineering), S.V.University, Tirupati, 1987.
Areas of Interest
Teaching Interests
Strategic Management
Business Models
IT Outsourcing and IT Strategic Planning
Technology Management
Global Business Management
Contemporary Issues in Management
Research Interests
Modelling Technological Change and Managing Innovation;
Organizational Frameworks for Business Excellence;
Total Quality Management and Service Quality;
Global IT Outsourcing Strategies;
Education Management and e-Learning.
Publications
N. R. Mukundan and L. Prakash Sai, "Perceived information security of internal users in Indian IT services industry," Information Technology and Management, April 2013.
Vidyashankar, G.S. and L. Prakash Sai, "Benchmarking Indian States' Performance On Educational Development: A DEA Approach," International Journal of Educational Management, Vol.26, No.1, pp.99-130, 2012.
L.Prakash Sai and V.Sudhir, "The Evolution of the Indian IT Services' Industry: Global Politics, Government Policies and Growth Pangs" in Eric Fritz (Ed.), Entwicklungsland, Schwellenland, Global Player: Indiens Weg in die Verantwortung,ATHENA-Verlag, Germany, 2010.
Sayeda Begum, Chandrasekharan Rajendran and L. Prakash Sai, "An Empirical Study of Total Quality Management in Engineering Educational Institutions of India – Perspective of Management," Benchmarking: An International Journal, Vol. 17 No. 5, pp. 728-767, 2010.
Panchapakesan Padma, Chandrasekharan Rajendran and L. Prakash Sai, "Service Quality and Its Impact on Customer Satisfaction in Indian Hospitals: Perspectives of Patients and Their Attendants", Benchmarking: An International Journal, Vol. 17 No. 6, pp. 807-841, 2010.
Narayan, B., Rajendran, C. and Prakash Sai, L. "Scales to Measure and Benchmark Service Quality in Tourism Industry: A Second–Order Factor Approach", Benchmarking: An International Journal, Vol.15, No.4, pp.469-493, 2008.
Panchapakesan Padma, Chandrasekharan Rajendran and L. Prakash Sai, "A Conceptual Framework of Service Quality in Healthcare: The Case of Indian Hospitals," Benchmarking: An International Journal, Vol.16, No.2, pp.157-191, 2009.
Narayan, B., Rajendran, C., Prakash Sai, L. and Ram Gopalan, "Dimensions of Service Quality in Tourism – An Indian perspective", Total Quality Management & Business Excellence Journal, Vol. 20, No. 1, 61–89, 2009.
T.J.Kamalanabhan, L.Prakash Sai and D.Mayuri, "Employee Engagement and Job Satisfaction in the Information Technology Industry," Psychological Reports, vol.105, pp.759-770, 2009.
Experience Summary
Presently, Professor of Strategy with Department of Management Studies, IIT Madras.
Served Tata Consultancy Services (TCS) for over a decade. Previously, Director (Strategic Planning), TCS North America operations and responsibilities included budget planning & forecasting, evaluating strategic plans, and competitive intelligence. Involved in the implementation of the business excellence initiative in TCS North America.
Lead large complex projects in software application development arena in the capacity of Project Manager and served as business analyst for IT strategy formulation. Specialized in global IT outsourcing business and software product vendor evaluation.
Handled projects germane to global IT outsourcing, business process improvement and activity based costing for Fortune 500 firms in USA. Have wide experience in conducting consulting assignments in the broad areas of Technology Strategy Formulation, Techno-Economic Feasibility Studies, Organizational Restructuring, Corporate Planning, and Industrial Engineering. Have good exposure to various industries including telecom, automobile, information technology, machine tools, retailing, and banking.
Conducted several corporate training programs on strategic planning; leadership development; Balanced Scorecard; negotiation skills; sales planning & business development; and business excellence.
Served as a Visiting Faculty (International Management Program), University of Applied Sciences, Hof, Germany.
Hold "QMS Lead Auditor" (ISO 9001) certification. Nominated as the Management Representative (ISO-9000), IIT Madras.
Serving as a Director in the boards of niche consulting services' firms; mentors student entrepreneurs and businesses in the incubation stage.
Supervised Ph.D. theses on "Service Quality," and "Technology-Mediated Learning." Guided M.S. (Entrepreneurship) theses.