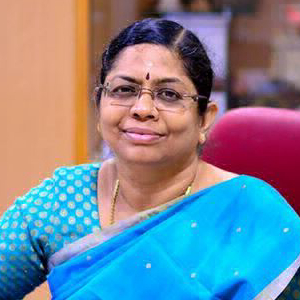 Dr. Thenmozhi M
Professor
Office: DoMS 203
Phone: 2257 4562 (O)
Email:This email address is being protected from spambots. You need JavaScript enabled to view it.

Currently on deputation as
Director, National Institute of Securities Markets, Mumbai
www.nism.ac.in
Ms. M.Thenmozhi
Professor in Finance
Department of Management Studies
Indian Institute of Technology Madras Chennai 600 036, India
This email address is being protected from spambots. You need JavaScript enabled to view it.
Currently on Deputation as
Director
National Institute of Securities Markets
NISM Bhavan, Plot No.82, Sector 17,
Vashi, Navi Mumbai - 400703
email:
This email address is being protected from spambots. You need JavaScript enabled to view it.
Homepage: https://doms.iitm.ac.in/index.php/mtm, https://www.iitm.ac.in/info/fac/mtm
You can read my working papers in http://ssrn.com/author=567794
You can see my papers https://www.researchgate.net/profile/Thenmozhi_M
You can see my web course on Management Science -I  in http://nptel.ac.in/downloads/122106031/
See https://in.linkedin.com/pub/m-thenmozhi/a/894/831 



M.Thenmozhi is a Professor in Finance in the Department of Management Studies of Indian Institute of Technology Madras, India and is currently on deputation as Director of National Institute of Securities Markets, Mumbai. She obtained her Doctorate from University of Madras and is a researcher and teacher in the area of finance for more than 28 years. She was formerly working as faculty in the Department of Management Studies of Anna University, Chennai.
She specializes in finance and strategy and her areas of interest are: Corporate Finance and Strategy, Financial Markets, Computational Finance, Forecasting and Time Series Modeling, Stock and Commodity Derivatives.
She is an Executive Endeavour fellow of the Australian Government and a recipient of Fulbright-Nehru Visiting Lecturer Fellowship and European Union Erasmus Mundus Scholarship. She is a National Award winner for developing the best manufacturing policy draft for India from the former Prime Minister Shri. Atal Bihari Vajpayee at the National Manufacturing Sector Policy Competition organized by the Federation of Indian Chambers of Commerce and Industry (FICCI) and We Think for India(WTI) Forum. She is a recipient of EXIM Bank Chair Professorship in finance offered by Indian Council for Cultural relations, Ministry of External affairs, Government of India.
 She has international teaching experience with UPM, Madrid, University of Passau, Germany and Lagos Business School, Nigeria. She has international research experience at QUT, Brisbane and San Diego State University, US. Currently, she has a series of collaborative research projects with SDSU, San Diego, US, La Trobe University, Australia, Deakin University, Australia, Monash University, Australia and University of Connecticut, US. She is involved in international networking for student and faculty exchange and joint projects with international Universities.
 At IIT Madras, she headed the finance area (group) for more than 13 years and has made significant contributions through various administrative assignments and responsibilities. At the Policy level, she is a senate member, member of Board of International and Alumni Relations (since 2014) and has been member of Board of Academic Courses (2012-14), Board of Academic Research(2009-11), Board of Infrastructure and Planning(2004-10), Library advisory committee(2001-06,2007-08,2008-09) and Research fund Committee, ICSR(2013). She had led various assignments by heading activities such as Chairperson MBA Programme (14-16), Chairperson DoMS Research Programme (12-14), Chairperson of Curriculum revision committee (2010-11, 2012-13).
 She has been a member of several Committees such as Executive Committee, Women's Forum (2008, 2010, 2012), Women's Grievance cell (2001-02, 2009-10), Curriculum Revision Task Force Committee (2005), Disciplinary committee, Core Committee on Web based Education(2000). She has also contributed in the recruitment activities by chairing or as expert member  in various committees of the Institute. She has been very active in faculty association activities and has taken several welfare measures for faculty members as Secretary, Vice-president and President of IITM faculty association and as President of All India IIT Faculty Federation. She has been a significant contributor at the department policy level activities such as department strategic planning, departmental consultative committee (major policy decisions), MBA admissions committee, MS/Ph.D admissions committee, Committee of Professors and various committees formed for specific tasks.
Her research focus is more on applied and policy implications based research in the domain of corporate finance and market microstructure and financial time series modeling. She primarily works on price discovery and volatility spillover in stock market, bond market and commodity market. She has done series of work pertaining to developing hybrid models to predict stock prices and has explored the linkage of ETFs, Mutual Funds and FII flows to stock market.    She empirically looks at why Indian firms prefer to choose Non-traditional Debt Financing, developed an entropy measure to capture extent of diversification of Indian firms, examine the impact of Ownership and Industry Structure on a firm's Diversification – Performance relationship and examine if rule of law/ country level corporate governance/corruption index matters for effective performance of acquisitions involving emerging markets. In recent years she has been looking at why Indian firms are holding huge liquid cash and explore if diversification, promoter ownership, Duality and Board composition impacts cash holding decisions, Institutional ownership and value creation. She developed a validated framework to evaluate the impact of IT investment in banking sector from users perspective, developed a financial stability index and examined its transmission across global markets. Currently, she has been working on short run and long run determinants of US corporate liquidity using Flow of Funds, Governance of group and family firms, liquidity and market efficiency of Commodity Market, Geopolitical, Corruption and economic freedom impact on Cross border Mergers and Acquisitions and impact of SEBI governance norms on firm value and performance. She has won several best research awards for her research work both at the national and international levels and her research papers are known for depth and knowledge addition to the literature and most of them have practical relevance to policymakers or industry.
 She has executed research projects with CTS and TCS. She has undertaken National stock exchange initiated projects and is currently doing a project with Multi Commodity Exchange of India(MCX). She also has an IITM incubated company Yrs Intuitions Consulting Private Ltd. TheHashtag.in is an exclusive wing of the company which focuses on reputation management and business intelligence solutions.
 She is actively involved in consulting and skill based development programmes ranging from one week to two years for various companies with repeat programmes for several years. She has been coordinating and running the two year executive programme in business administration for the fourth batch now for the employees of GMMCO group, CTS, S&P, Nissan, SBI, Walmart, Wipro, TCS, Infosys, TAFE and others. She is currently doing a series of skill development programmes for L&T (PT&D), Chennai and NTECL Vallur.
 Faculty development is a constant initiative of hers and she has done several continuing education programmes to enhance the research skills of faculty members and research scholars. She has also organised workshops and interactive sessions with international faculty for researchers and faculty members from other colleges.
 She has professional contributions to other Colleges, Universities and Higher education Institutions at different levels ranging from being part of faculty recruitment, doctoral committee member, member of Advisory Board, member of Board of academic studies, research guidance, delivering lectures, delivering keynote address in conferences or seminars, course audit of programmes, accreditation, etc. She is a Senate member of IISER, Trivandrum. She was a member of the Equity Derivatives Governing Council Board of Madras Stock Exchange for about an year.
Selected Journal Publications
Skill Development Programmes and Projects